Apricot Chick'n à la France
Using Heritage Health Food Chick'n Tenders
Ingredients:
Serves 3
Prep time, 5 minutes. Cook time, 10 minutes.
Ingredients
1 bag Heritage Chick'n Tenders
¼ Cup French Dressing
¼ Cup Apricot Jelly / Preserves
Directions:
Open bag of Heritage Chick'n Tenders™ and thaw or place in microwave and defrost until Chick'n Tenders™ are thawed enough to cut. Dice to desired bite size pieces. Place in a fry pan on the stove and spray some olive oil on the pan. Set stove on High heat. Place the diced Chick'n Tenders™ chunks in the pan and let the chunks brown a little.
While the Chick'n Tenders™ chunks are browning, place a ¼ c of each the dressing and jelly into a mixing bowl and stir together. Once mixed, reduce heat to medium and drizzle the glaze over the browned Chick'n Tenders™ chunks. Stir to cover all areas of the Chick'n Tenders™ chunks. Plate and enjoy!
Serving Suggestion:
Delicious over rice with a side of steamed broccoli.
Note:
I'm pretty sure this recipe would work with just about any brand of French dressing and Apricot preserve. You can use the brands I used or your favorite. I would love to hear about any variations and how they turned out! Thanks!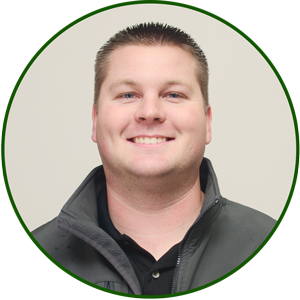 Meet Eric Otis!
Job Title: Regional Sales Manager
About Eric: Meet Eric, one of our Regional Sales Managers and youngest son of CEO Don Otis. He has been a big part of Heritage since the beginning, tackling everything from Plant Production to Office Construction. Eric has been a full time Firefighter for the Cleveland Fire Dept and continues to do so on his days off from Heritage. Eric is also a talented carpenter. He built his own house and his handy work can be seen in throughout our corporate offices. When he is not busy working for Heritage,  transforming wood into furniture or fighting fires, he can be found behind the stove at the fire dept, whipping up a surprise vegetarian dish for his fireman brothers. They tease him a lot about being vegetarian, but non of them will turn down his fantastic cooking!
We recommend you give Eric's recipes a try! While you're at it, why not stop by and let us know what you thought about his Apricot Chick'n à la France! I'm sure Eric would love to hear from you!